Thai Green Tofu Lettuce Cups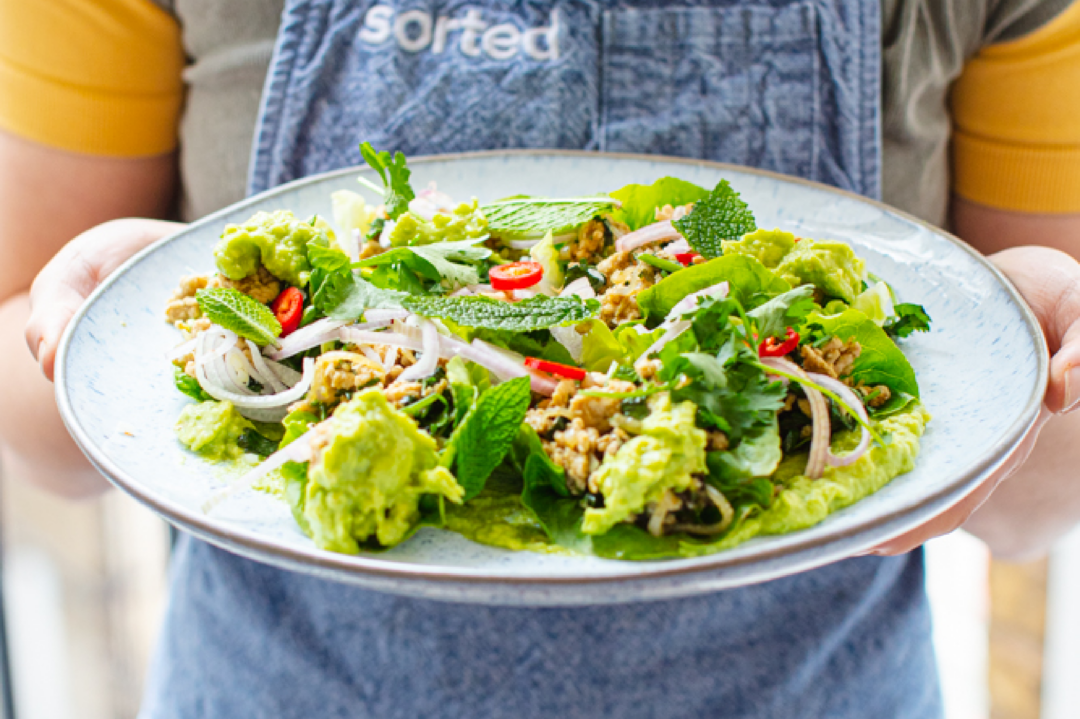 This recipe is from the 'Nourish Yourself' Meal Pack and is perfectly paired with 2 other recipes that use similar fresh ingredients, saving you money and reducing your food waste. Complete the Meal Pack with Roast Asparagus with Pea + Courgette Salad and Green Lentil Goulash-Style Soup, now live on the app! 
(Serves 2)
Ingredients
150 g echalion shallots

1 red chilli

10 g fresh ginger

1 clove garlic

1 large avocado

2 limes

1 tbsp vegetable oil

2 tbsp vegetarian Thai curry paste

280 g extra firm tofu

10 g fresh mint

30 g fresh coriander/ cilantro

1 tsp caster sugar

1 tbsp light soy sauce

2 heads little gem lettuce
Method
1. Prep it up
Halve, peel and thinly slice 150g (5.3oz) of shallots. Thinly slice 1 red chilli, then peel and finely grate 10g (0.4oz) of ginger and 1 clove of garlic.
2. Make your sauce
Use a small knife to cut 1 avocado in half lengthwise around the stone. Use a tablespoon to scoop out the stone, then use the spoon to scoop the flesh out of the skin straight into a small bowl.
Chuck in the ginger and garlic from earlier. Finely grate in the zest of 2 limes and squeeze in their juice.
Mash everything together with a fork until semi-smooth, then loosen with 2-3 tbsp of water to reach a mayo-like consistency. Season to taste with salt.
3. Fry
Pour 1 tbsp of oil into a large frying pan and place over a high heat.
Once the oil starts to shimmer and loosen, dollop in 1 tbsp of curry paste. Fry for 1-2 minutes, until fragrant, then chuck in the shallots.
Fry everything for a further 3-4 minutes, until the shallots soften slightly.
Crumble in 1 280g block (9.9oz) of tofu and continue to fry everything for 6-8 minutes, until crisp in places. Roughly chop 10g (0.4oz) of mint and 30g (1.1oz) of coriander while you wait.
4. Assemble and serve
Once the tofu is ready, scatter in ¾ of the herbs, 1 tsp of sugar and 1 tbsp of soy sauce. Toss everything together.
Cut the roots from 2 heads of gem lettuce and break them down into their individual leaves.
Load the leaves with the tofu mix. Spread ¾ of the sauce onto 2 plates. Place on the filled lettuce cups and drizzle over the remaining sauce. If you are feeling lazy, you can take everything to the table and let everyone construct their own lettuce cups.
Scatter over the chilli and reserved herbs from earlier, grab a couple of napkins and tuck in!
Loved this recipe? Get the whole 'Nourish Yourself' Meal Pack on our app!
Hey, this is Jamie here to recap this year - and to be honest, it's hard to know how to sum up a year like 2021… Much like last year, it's been filled with an overwhelming sense of anxiety and not knowing what's around the corner. But for those same reasons, it's also...