Create a SORTEDfood Team with your colleagues and help each other cook better and spend less.
With remote working now the norm, key everyday bonding moments such as working lunches or team meals are harder to organise. Help your team feel a part of something bigger by signing up to SORTEDfood, the global food community that will transform how they cook and eat at home through Meal Packs that can be enjoyed together or with their own families.
✓  Boost engagement, health and productivity in your Team
✓  30% savings on food spend with a zero food waste model
✓  Improve creativity with flexibility in their meal choices
✓ 3-5 simple and delicious recipes, designed for 1, 2 or 4 people
Written by chefs and tested by normals, so you never need to stress about what to cook again!
✓ Spend less every week
Each Meal Pack uses common ingredients across the recipes to save you money on your weekly shop. The easy-to-follow shopping list means you can buy your ingredients in a way that suits you.
✓ Eliminate your food waste
Each Meal Pack has been created so you eat everything you buy, reducing one of the main causes of food waste. Simple.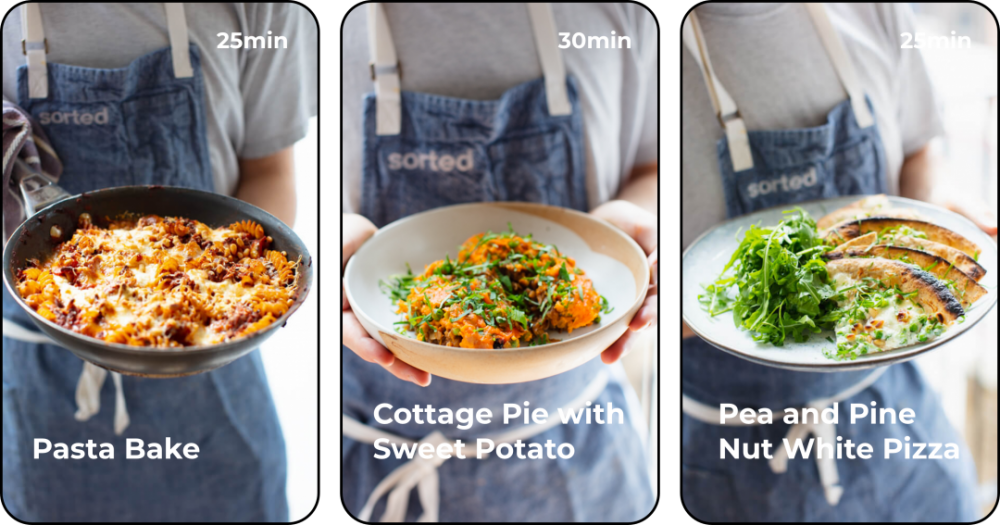 3 Meals | Meat + Fish | 2-4 People
Quick Cook, Minimal Ingredients, Less Washing Up
Ingredient Checklist
Store Cupboard
150g Dried Pasta
250g Frozen Peas
4 Cloves of Garlic
400g Tinned Tomatoes
60g Tomato Paste
30ml Veg Oil 
Fresh Ingredients 
500g Beef Mince
2 Beef Stock Cubes
2 Brown Onions
4 Flatbreads
30g Fresh Parsley
85g Parmesan
 3 Carrots
150g Mozzarella
50g Pine Nuts
250ml Red Wine
250g Rocket
4 Sweet Potatoes
150ml Sour Cream
Target Price
£ 1.50 per Portion 
Meal Packs benefit more than just your team?
By signing up for Meal Packs, not only can you create a catalyst for your team to cook and eat together, you can also help improve their food routines at home – saving money, reducing food waste and providing delicious meals for their housemates, partners or families.
Set up a Team of 10 to 1,000+ today!
10 – 50
Memberships
£4 Monthly Per Person 
Pay Annualy
50 – 200
Memberships
£3.50 Monthly Per Person 
Pay Annualy
200 – 500
Memberships
£3 Monthly Per Person 
Pay Quartly
500+
Memberships
£2.50 Monthly Per Person 
Pay Quartly
Senior staff members from schools worldwide can apply for FREE access to Meal Packs for all their students by completing the form below. Please allow 3 days to be verified.
Unlimited Students
Memberships
£FREE  
Renew Annaully