Bring Meal Packs to your school for free
During the most recent UK lockdown, we've been hearing from teachers and parents across the country who are trying to master the art of 'plate spinning' with homeschooling whilst working their own jobs and trying to keep their families safe, healthy and well fed.
So many of them have spoken about the the importance of coming together to cook and eat food at the end of a day – not just to put together a good dinner, but also provide unique opportunities for key moments of conversation, togetherness and lift each others spirits – all of which can have a major impact on increasing positive mental health and something so many people could use help with at the moment.
To help families through the next few months, we're offering schools and their pupils' families access to the Meal Packs app for free until the lockdown across the UK finishes.
✓ 3-5 simple and delicious recipes, designed for 1, 2 or 4 people
Written by chefs and tested by normals, so you never need to stress about what to cook again!
✓ Spend less every week
Each Meal Pack uses common ingredients across the recipes to save you money on your weekly shop. The easy-to-follow shopping list means you can buy your ingredients in a way that suits you.
✓ Eliminate your food waste
Each Meal Pack has been created so you eat everything you buy, reducing one of the main causes of food waste. Simple.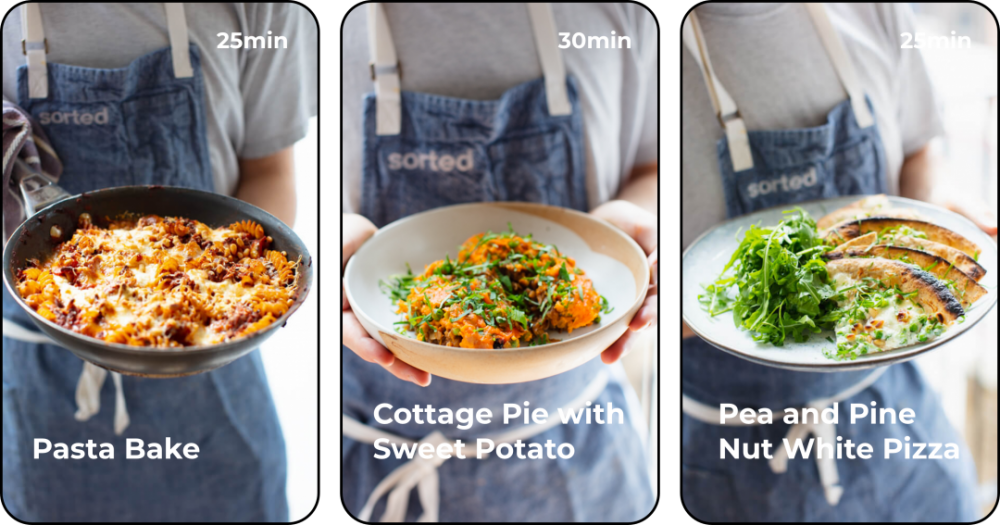 3 Meals | Meat + Fish | 2-4 People
Quick Cook, Minimal Ingredients, Less Washing Up
Ingredient Checklist
Store Cupboard
150g Dried Pasta
250g Frozen Peas
4 Cloves of Garlic
400g Tinned Tomatoes
60g Tomato Paste
30ml Veg Oil
Fresh Ingredients 
500g Beef Mince
2 Beef Stock Cubes
2 Brown Onions
4 Flatbreads
30g Fresh Parsley
85g Parmesan
3 Carrots
150g Mozzarella
50g Pine Nuts
250ml Red Wine
250g Rocket
4 Sweet Potatoes
150ml Sour Cream
Target Price
£ 1.70 per Portion 
Benefits for the whole family!
Meal Packs takes the stress out of midweek cooking by providing 3-5 delicious recipes hacked by our chefs to make sure that anyone can cook a nutritious dinner in next to no time. Leaving families with a tidy kitchen, all their fresh ingredients used, and saving them a load of money along the way. And of course, turning a midweek dinner into the perfect opportunity to come together as a family around the dinner table and try to make sense of a world that doesn't make much sense at the moment.
Senior staff members from schools across the UK can apply for FREE access to Meal Packs for all their students by completing the form below. Each school will just need one 'champion' to help manage the setup with us – to sign your school up, fill in the form below.