A quick 'how to' guide to get FREE access to the SORTEDfood Meal Packs recipe app – helping your family cook and eat better for less.
We've been hearing from families around the country about the pressures they're currently facing with homeschooling, working, trying to keep their families safe, healthy and well fed – all whilst keeping an eye on how much money is being spent.
It's evident that it's more important than ever to ensure we're all getting the most value out of the food we're buying and eating… and we want to do what we can to help people cook delicious, nutritious meals for less.
It starts with offering you access to our Meal Packs app for free!
Meal Packs is an app that takes the stress out of midweek cooking by providing 3-5 delicious recipes hacked by our chefs to make sure that anyone can cook a nutritious dinner in next to no time. 
Each week, choose a Meal Pack that suits you, use the shopping list to buy your ingredients and follow the simple audio guides to cook up a family feast. Leaving you with a tidy kitchen, all your fresh ingredients used, and saving you a load of money along the way. 
And of course, turning a midweek dinner into the perfect opportunity to come together as a family around the dinner table and try to make sense of a world that doesn't make much sense at the moment.
How to Download and Log In
Go to your App store or Google Play and search for 'SORTEDfood'. Download the application 'Meal Packs by SORTEDfood'
Open the Meal Packs Application on your home screen.
Once you have opted in we will send you your account details within 2 weeks
Enter the account details supplied.
Add a Meal Pack to your Library
Each week there's a new selection of Meal Packs to choose from, featuring different themes and styles of recipes. Browse the selection and pick the one that suits your family this week and click 'Add to Library'.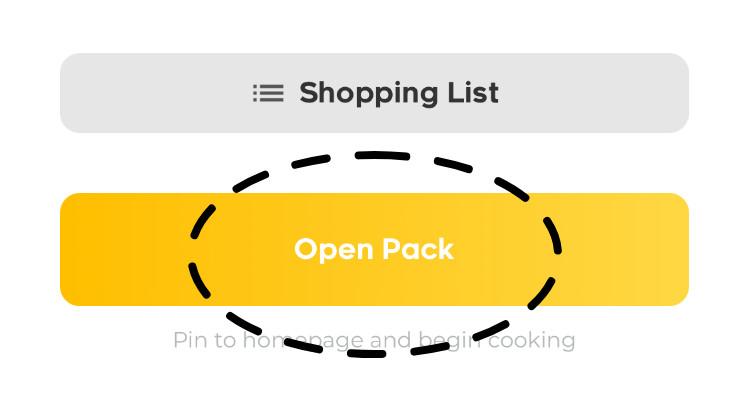 Select the Meal Pack from the Library and push 'Open'. This will make the pack active.
To change how many you are cooking for, click on the 'servings' button and select the amount that suits you.
Here you can check off what you already have and copy the remaining ingredients to a list to buy. Ingredients are separated into store cupboard 'staples' and fresh ingredients.
Feel free to buy your ingredients from wherever you usually shop. If you want to stock up on some store cupboard 'staple' ingredients that are used across our Meal Packs, you can find the full list in your settings.
Select a recipe from the Kitchen Guides
Select the recipe that you would like to cook first. Click 'Start Guide' and you will be asked to check you have all your ingredients ready. When you're good to go, click 'Next'.
Cook with Audio Guides and Timers
Follow the recipe through the written instructions, and make sure your volume is turned up as we guide you around the kitchen with Audio Guides. Timers are included throughout to help you keep on track. Don't worry, you'll be instructed to clear up as you go – leaving more time to spend with the family after dinner!
Let us know what you thought of both the Meal and the cooking process. We are always looking to make improvements so your feedback is vital!
If you have any issues, please get in touch with your school representative.